SIDE CHANNEL VACUUM PUMPS

Side channel vacuum pumps have proven their reliability in service for many decades, performing flawlessly virtually maintenance free day in and day out with practically no down time. Side channel vacuum pump for years now have had lower noise levels than that of most other vacuum pumps and compressors. We offer a wide range of accessories that are ideally suited for these pumps thus improving and adapting their performance for your specific needs. These pumps can even be installed outside, and due to their special sound protection, they can operate in sensitive environments such as schools, living quarters and even hospitals.
Advantages
low noise levels
virtually maintenance-free
reliable and built-to-last
robust yet light-weight
most models can be installed in any axial orientation
wide performance range
for use worldwide (UL/CSA/IEC/EN approval)
50/60 Hz voltage range motors
ATEX
adjustable speed via external or integral converter
Areas of application examples
Central vacuum systems
Degasification of food
Dental Vacuum
Drying out building
Filling bags / bottles / silos
Pond ventilation
Gas analysis
Industrial vacuum cleaners
Laser printing
Pneumatic conveying
Letter sorting / enveloping
Lifting and holding parts using vacuum suction
Packaging industry
Plastics industry
Printing and paper industry
Soil remediation
Textile industry
Ventilation of sewage treatment plants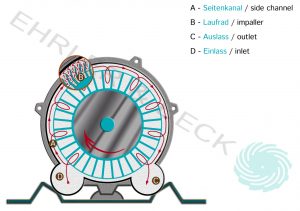 Gas enters through the inlet port (D). The impeller in some pumps in mounted directly on the motor shaft for contact free operation thus furthermore increasing the pumps life span. As the gas enters the side channel (A), the rotating impeller (B) imparts velocity to the gas in the direction of rotation. Centrifugal force in the impeller blades (B) accelerates the gas outward and the pressure rises. Every rotation adds kinetic energy, resulting in further increase of pressure along the side channel. The side channel narrows at the rotor, sweeping the gas off the impeller blades and discharging it through the outlet port (C). Maximum operational reliability and service life, even at high differential pressures, is ensured by the arrangement of the bearings outside the compression chamber. 
*This description does not consider the approach of each manufacturer to the technology, but represents a generalized description that tries to cover the basic operating principle.
EHRLER & BECK OFFERS THESE SIDE CHANNEL VACUUM PUMP SERIES