Ehrler & Beck offers original EDWARDS vacuum pumps, spare parts and accessories
Edwards is one of the world's leading vacuum technology and emission control companies. Edwards prides itself on leading the industry, pushing the boundaries of science to deliver innovative products that are a part of everyday life, working in partnership with its customers, and constantly setting new standards.
With over 100 years of experience, Edwards is the partner of choice for tens of thousands of customers in critical applications around the world. Vacuum is needed in a variety of fields, from power generation to steel production to the challenging environments of space simulation and research in high energy physics. Wherever you find vacuum requirements, you will find Edwards products leading the way.
From medicines to cell phones, computers, coffee beans, cars and chemicals, Edwards prides itself on making people's lives better. And Edwards does this responsibly, ensuring that they innovate sustainably and help customers maintain their competitive advantage and operational excellence.
Edwards is part of the Atlas Copco Group (NASDAQ OMX Stockholm: ATCO A, ATCO B), a Sweden-based provider of industrial productivity solutions.
Ehrler & Beck offers these series from EDWARDS: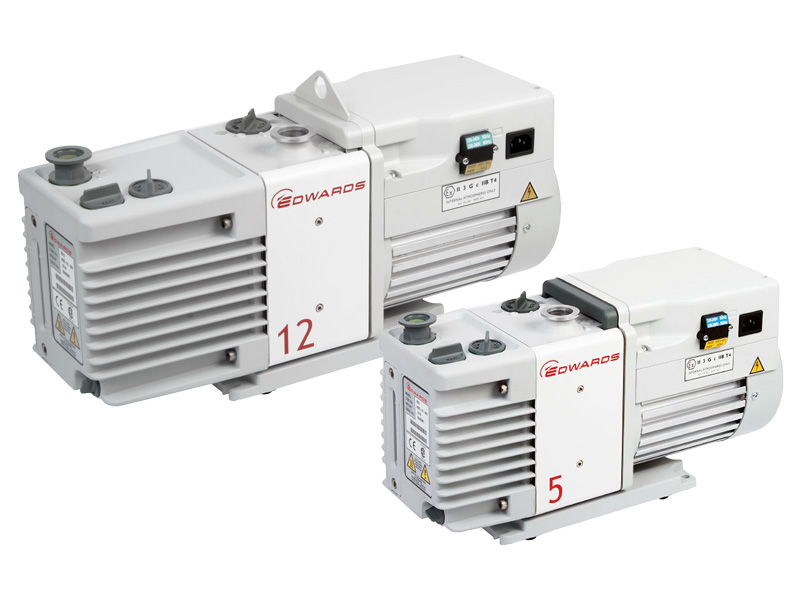 RV SERIES
Oil Lubricated Rotary Vane Vacuum Pumps
RV-Series oil lubricated rotary vane pumps from Edwards deliver high pumping speeds, excellent ultimate vacuum pressure, and high vapour handling capabilities with quiet operation. All Vacuum pumps from the RV Series are approved to UL and CSA standards by an external test house and feature unique mode selector switch from Edwards, making the Vacuum Pumps from the RV Series suitable for both high vacuum or high throughput applications.
Standard Applications
Analytical instruments
Laboratory bench top vacuum
Backing turbo-molecular pumps
Freeze drying
Research and development