CLAW PRESSURE VACUUM PUMPS

Modern claw pressure vacuum pumps operate oil-free pressure and vacuum can be combined in a single claw stage. All operating points on the pressure and suction side work. (KLR series) with opportunity charging of air. Claw combined pumps are one of the most important parts of the market. Dry and non-contact operation and an integrated cooling system reduce operating costs to a minimum.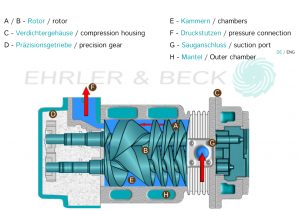 Similar to the rotary vane and rotary piston vacuum pumps, the claw vacuum pump is based on a static compression system. Inside the compressor housing (C) two rotors (E, F) in the opposite direction non-contact with very narrow gaps. They are synchronized via a precision gear. When the claw is over the suction port (B) and the axial suction channel opening (D) moves, the gas is sucked into the compression chamber. As the rotors rotate, the gas is transported from the suction side to the pressure side, where it is pressed or compressed between the rotors by reducing the volume until the lower rotor closes the opening of the pressure channel (G) releases. The pre-compressed gas is fed through the pressure connection (H) excluded. The heat generated by the vacuum process is dissipated by cooling air passing between the pump housing (C) and a soundproof hood (A) is sucked through.
*This description does not account for each manufacturer's approach to the technology, but represents a generalized description that attempts to incorporate the basic principle of operation.
THE DELIVERY PROGRAM FROM EHRLER & BECK INCLUDES THE FOLLOWING SERIES:
PRESSURE VACUUM PUMPS TECHNOLOGIES