Side channel compressors generate low-pulsation blown air due to their internal "multi-stage" compression. The optimal impeller design with curved impeller blades guarantees optimal efficiency. The separation of the compression chambers on both sides of the impeller enables single-stage, double-entry or two-stage, single-entry operation with just one impeller. Intake filter and pressure safety valve are optionally integrated in the patented design of the silencer. The silencers can be varied in length for flexible adaptation to the available installation space.
The advantages at a glance
low noise
Virtually maintenance free
Reliable and durable
Robust with low weight
Can be installed in all axis positions
Variable in the performance range
Worldwide use (UL/CSA/IEC/EN certified)
50/60 Hz voltage range versions
ATEX
Speed controllable via external or integrated converter
application areas
structural drying
Filling of bags / bottles / silos
Aeration of sewage treatment plants
soil remediation
dental suction
food degassing
pond aeration
gas analysis
lift and hold
industrial vacuum cleaner
plastic industry
laser printer
paper processing
Pneumatic promotion
Sorting / inserting letters
textile industry
packaging industry
Central vacuum systems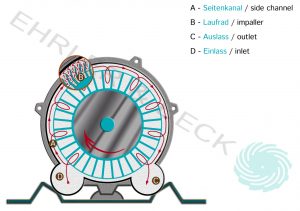 Gas escapes via the intake port (D) a. The impeller in some pumps is mounted directly on the motor shaft for non-contact compression, resulting in increased durability. When the gas enters the side channel (A) occurs, the rotating impeller (B) spirally accelerated in direction of rotation. The effect of centrifugal force ensures that the gas in the impellers (B) is accelerated radially outwards and the pressure is increased. With each re-entry into the impeller, kinetic energy is fed back to the impeller along the side channel. The cross-section of the side channel decreases at the interrupter, the gas is scraped off by the impeller and leaves the pump through the outlet opening (C). A high degree of operational safety and a long service life, even with high differential pressures, is guaranteed by the arrangement of the bearings outside the compressor chamber.
* This description does not reflect each manufacturer's approach to the technology, but represents a general description that attempts to include the basic operating principle.
THE DELIVERY PROGRAM FROM EHRLER & BECK INCLUDES THE FOLLOWING SERIES: