OIL FREE ROTARY VANE PRESSURE VACUUM PUMPS

Simplicity of design with only one shaft and direct drive produces robust, long-lasting pressure-vacuum pumps with low maintenance and running costs. These pressure-vacuum pumps operate completely oil-free; the individual chambers are separated by long-life vanes. Already featuring integrated intake filters and control valves, these pressure-vacuum pumps can be fitted with other accessories without a problem. The blast-air cooler, which is also integrated, guarantees a very low blast air temperature. The compact cover ensures low noise and heat emission. Optional corrosion protection also makes these pressure-vacuum pumps suitable for extracting moist air.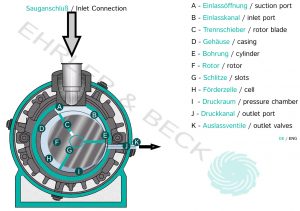 An eccentrically positioned rotor (F),  inside a cylindrical casing (D) operates by almost touching the cylinder (E). Inside rotor slots (G) are rotor vanes (C), or rotor blades which slide against the cylinders internal surface. This occurs due to centrifugal force caused by rotors rotation. In this way a cell (H) is formed between two vanes with a constantly varying volume during the rotation. The cell has achieved maximum air volume one the rear blade has reached the inlet port (B). As the cell is rotated inside the casing its volume diminishes thus becoming compressed while the pressure rises. This continues until the pressure in the cell exceeds that in the pressure chamber (I) and the air then exits through the outlet port (J), where some models have been fitted with outlet valves (K) which prevents the back-flow of discharged air.With pressure-vacuum pumps the lower end of the inlet port(s) (A) for the vacuum is moved forward. The cell can now be filled through second inlet (B). To avoid impairing the vacuum, this second inlet port is located about one cell segment away from the main suction port. The ratio between vacuum and pressure capacities can be influenced by the choice of inlet port(A and/or B).
*This description does not take into account the approach of each manufacturer to the technology, but represents a generalized description that tries to include the basic operating principle.
EHRLER & BECK OFFERS THESE OIL FREE ROTARY VANE PRESSURE VACUUM PUMP SERIES
PRESSURE-VACUUM TECHNOLOGIES