SIDE CHANNEL PRESSURE VACUUM PUMPS

Using "multi-stage" compression, side channel pressure/vacuum generators produce low-pulsation suction and blast air. Perfected impeller design with curved blades guarantees optimum efficiency. Separation of the compression chambers on both sides of the impeller provides the capability of operating with a combination of suction and pressure with only one impeller. Intake filter, vacuum as well as pressure safety valve can be integrated as an optional extra in the patented design of the sound absorbers. The sound absorbers can be varied in length, affording flexible adjustment to available installation space..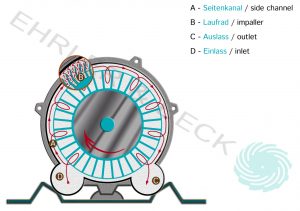 Gas enters through the inlet port (D). The impeller in some pumps in mounted directly on the motor shaft for contact free operation thus furthermore increasing the pumps life span. As the gas enters the side channel (A), the rotating impeller (B) imparts velocity to the gas in the direction of rotation. Centrifugal force in the impeller blades (B) accelerates the gas outward and the pressure rises. Every rotation adds kinetic energy, resulting in further increase of pressure along the side channel. The side channel narrows at the rotor, sweeping the gas off the impeller blades and discharging it through the outlet port (C). Maximum operational reliability and service life, even at high differential pressures, is ensured by the arrangement of the bearings outside the compression chamber.
*This description does not take into account the approach of each manufacturer to the technology, but represents a generalized description that tries to include the basic operating principle.
EHRLER & BECK OFFERS THESE SIDE CHANNEL PRESSURE VACUUM PUMP SERIES
PRESSURE-VACUUM TECHNOLOGIES