CLAW PRESSURE VACUUM PUMPS

Modern claw pressure vacuum pumps operate oil-free where pressure and vacuum can be combined in a single claw stage. All operation points on pressure and suction side work almost independently from each other. Claw pressure vacuum pumps operate economically and highly efficiently thank to the triple lobe design (KLR Series) with intermediate charging of air. Claw combined pumps are know for their reliability in operations and that no wearing parts replacements are necessary in the compression chamber. Dry and contact free operation and an integrated cooling circulation reduce the operating costs to a minimum.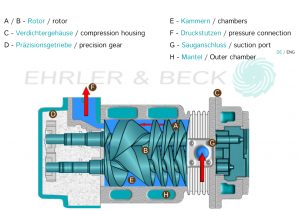 Similarly to rotary vane and rotary lobe pumps, the claw pumps are based on a static compression system. Within the compressor housing (C) two rotors (E, F) turn in opposite directions without contact observing a very tight clearance. They are synchronized by a precision gear. The gas is sucked into the compression chamber once the claw moves over the suction connection (B) and the axial suction channel inlet (D). The gas is moved from the suction side to the pressure side by the rotors rotation, where it is compressed by the volume reduction between rotors until the lower rotor uncover the discharge channel (G). The pre-compressed gas is discharged by the pressure connection (H). The heat generated by the vacuum process is removed by cooling air which is sucked in between the pump housing (C) and a silencing cover (A).
*This description does not take into account the approach of each manufacturer to the technology, but represents a generalized description that tries to include the basic operating principle.
EHRLER & BECK OFFERS THESE CLAW PRESSURE VACUUM PUMP SERIES
PRESSURE-VACUUM TECHNOLOGIES